A Crazy Few Months
At some point in the last year I got sick and didn't even realize it. After (far too many) months of increasing depression and fatigue and strange stomach issues which seemed immune to dietary changes, my wife kicked my ass all the way to a doctor's office. Turns out I'd picked up some rare and nasty parasite somewhere—one of those cool ones with subtle mind-control powers. And here I'd just thought I was stressed out. I finished the run of antibiotics a couple of weeks ago and I feel like a different person. It's crazy how connected gut and mind are. Scary, even.
I've learned some harsh yet valuable lessons as well. In spite of making fourteen best-of-2015 lists, taking third in the r/Fantasy STABBYS for best début, placing 27th in the Fantasy-Faction best of 2015, and a slew of rave reviews, Harper Voyager have decided to pass on the sequel to Beyond Redemption. It came as a surprise to everyone. But here's the lesson: Reviews do not equate to sales, and they're not the same as real word-of-mouth.
First, let me say that I understand Harper Voyager's decision. It's a business, and my mad little novel was not selling up to expectations. That said, it is still selling, and it is still getting rave reviews. In the past few weeks I've heard from a couple of for-realsies writers that they've read and really enjoyed the book. I'll resist the urge to name drop, but I did go SQUEEEE when they reached out to say nice stuff about the book. I'm also seeing increasing chatter about the novel on-line in such fine communities as reddit's r/Fantasy sub-group, SFF Chronices, and various GoodReads groups. I'm beginning to wonder if I may have a bit of a sleeper on my hands. People have been slow to discover the book, but when they do they really seem to like it.
Here's hoping!
Yesterday I finished proposals (query letters, short-pitches, and sample chapters) for The Mirror's Truth (the sequel to Beyond Redemption) and The All Consuming (which takes place in the same world but with a whole new cast of characters). My agent has them and is reading them over. If she thinks they're good, we'll start the submission progress. I've seen the list of publishers she's put together for this and am seriously excited.
Character Art
As a writer you hope and dream people will be inspired by your work. The artist/actor Quint VonCanon has been reading Beyond Redemption and sharing some of his art and it's amazing. This is beyond my wildest dreams. Okay, I am still really hoping someone someday tattoos something Beyond Redemption related on themselves.
Here is Quint's Work:
You can find more of Quint's work at Deviant Art!
Other Cool Stuff
My story, At the Walls of Sinnlos is in the current issue of Grimdark Magazine. It's a Manifest Delusions short story and my Hassebrand races the cover.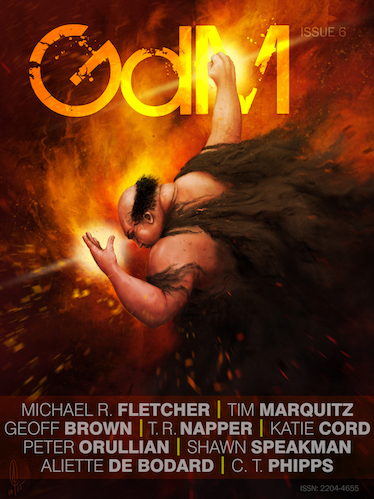 What I'm Working On
I'm still putting together a proposal for my YA fantasy novel. No details there as I'm not ready to talk about it. It is however very different from Beyond Redemption.
I've also been work-building for two new series and have wikis under construction for both. One is leaning in the epic fantasy direction with huge emphasis on the word epic. It's a monstrous clash of magic systems. It'll probably get labelled grimdark as I can't help but write with a certain darkness. The other is something different, an experiment with a new magic system I've been playing with spiced with Incan mythology that's been twisted beyond recognition.
I've also been chatting with Marc Aplin (Fantasy-Faction) about doing a story in the Guns and Dragons Anthology. I've got an idea I'd really like to explore but can't talk about.
So…busy busy busy!
Oh yeah. I'm also looking for a job. I've been a quasi-self-unemployed writer for too long.
Daddy needs some new boxers. And whiskey ain't cheap.