I thought I'd take a few minutes each Monday to talk about music. More specifically, I thought I'd talk about the music I listen to while writing, the stuff that inspires and acts as the soundtrack to whatever madness is currently being brain-barfed onto the page. These are not so much reviews, but you can safely assume any band/album I discuss here is worth checking out… if you like metal. If you don't, well, maybe ignore me on Mondays.
Today will be a flashback. Cue trippy lighting.
I don't think I listened to any band more that I listened to Hypocrisy during the writing of Beyond Redemption. By the time I was editing the novel I had Into the Abyss, Catch 22, The Arrival, Virus, A Taste of Extreme Divinity, and End of Disclosure on continual repeat.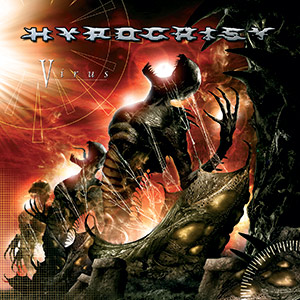 I'm going to focus on the album, Virus. With tracks like Let the Knife do the Talking, Compulsive Psychosis, and Living to Die, this is the quintessential Beyond Redemption soundtrack.
Some songs were spun over and over on continual repeat: Let the Knife Do the Talking was Stehlen's song. The brutality of the track–the senseless violence–perfectly caught the filthy Kleptic's willingness to do harm.
Living to Die became the track I'd listen to over and over while trying to capture the feel of the world.
I am the great messiah of the fallen paradise
Destroyed by my own creations, I cannot cope with life
The truth you think you know so well- it's just a big lie
And…
The things we do- it's just a battle in hell
We are the dirt- can I break these chains?
For any fans of Death Metal out there, this one is definitely worth the investment. Turn it up until your fine glassware rattles and your ears bleed.
We are the slime that kicks in the dirt
We are the plague spreading through the world
We are the disease- the virus eating away
We are no one, we're just living to die