I was at work totally working at not at all daydreaming when it occurred to me that it might be fun to host a series where author's reviewed their own books. With my usual planning and foresight and deep contemplating of consequences I immediately began pestering several of my favourite novelists. Some agreed. Some wanted me out of their bathroom.
And so I bring you the first in a series of indeterminate length!
JO ZEBEDEE  Reviews INISH CARRAIG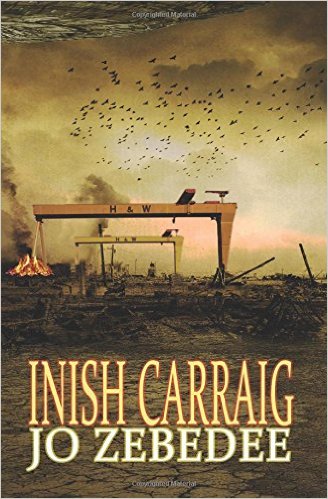 This book confuses the hell out of me, on just about every level. It's sci-fi, with not much sci-fi, it's young adult, but it's also adult. And half of it is written in a Northern Irish accent. This, I have to admit, intrigued me. I expected words like 'eejit' and 'wee', with the odd 'ye boyo' thrown in. Instead I got just about every swear word I've encountered before – 30 years of inventive language captured in around 150 pages. And this from an author of the fairer sex – she must have a serious potty-mouth.
Anyhow, to the plot. We have two sets of aliens with various unpronounceable names, and both want to take charge of Earth. One set are evil and invaded Earth – but might not be evil, really – and one set arrived later to help – but they might not be helping. In fact, because the author stays in her pesky characters' thoughts the whole time, and because her characters know nothing useful, we end up as confused as they are. It has the unsettling effect of feeling like you're the person in the sodding book. I read for escapism, not to end up glancing behind me in case the dog has turned into some sort of alien monster. (Hard to tell the difference on a bad day. All most unsettling.)
And then there's the title of the damn book. Inish Carraig? What in the name of God does that mean? It's not even syfy.
Turns out Inish Carraig is a bloody big alien prison (which was cool, I'll give the author that) called the Irish for Rocky Island. How it escaped having a fucking in there for good measure I have no idea. From there, our hero has to escape and there are bots – at last, something scifi – and sisters on the run down spooky train lines and cops getting beat up by aliens. On top of that, it's set in Belfast, but the city has been trashed (didn't notice much difference, truth be told) and everyone's fighting the aliens now instead of each other. (So, like, minus points for utter fiction there.)
Would I recommend this book? Only if you like alien shit and don't mind dark scenes and dark humour. Oh and the most scarily creepy prison walls I've ever read (thanks for the nightmares, Zebedee.) Ignore it if you don't like curse words and characters who remind you of real people you might actually meet. Cos, you know, fiction. If I wanted real life and real people, I'd get out more.
1 star. And that's for the walls. They were pretty cool. Oh, and the babe who came into it near the end. More of her!
Back Cover Copy
Post-alien invasion Belfast. Earth has been defeated. Pity the locals aren't listening. Teenager John Dray will do whatever he must to survive. When he's offered desperately needed food in exchange for dispersing a mysterious compound over the city, he takes the job. The compound turns out to be lethal to the alien invaders and John is charged with xenocide. He's sent to Inish Carraig, a forbidding prison, where he discovers a conspiracy that threatens Earth and everyone he loves. He has to unveil the plot. He just has to get out of prison first.
Buy INISH CARRAIG.