The madness of AUTHORS REVIEWING THEIR OWN BOOKS continues!
This week Timandra Whitecastle stops by to review her novel, TOUCH OF IRON. Wait. Is it actually her, or did she send one of her characters or even a book cover to do the review for her? I think we have a real person! Woooo!
TOUCH OF IRON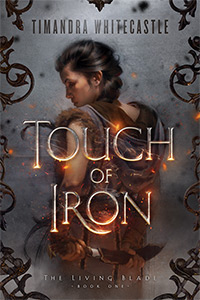 I picked up Touch of Iron only because I'd seen the cover on Instagram and Pinterest a few times, and wow, it's beautiful. But how does the adage go? Don't a judge a book by its cover.
The blurb made me think that it'd be my standard heroic fantasy fare – legendary sword, questing, multiple points of view, and I was looking forward to it.
But it's terrible.
The female main character is an awful person. She's very un-christian, unwomanly, headstrong, curses a lot – the amount of expletives in this book is obscene. Obscene, I tell you! – and nowhere in the book is she described as being beautiful or meek. I don't get it – it's as if Whitecastle doesn't think women have to be sexy in order to have worth, lololol. The way the author wrote her, I'd say that Whitecastle person is pushing her own feminist agenda with Nora.
Whitecastle also shies away from any opportunity of true character development. Nora starts out as a total failure, running away from home with her twin bother because, frankly, she's very ungrateful, and prone to violent tempers. Mood swings! Lololol. Pretty quickly she gets swept up in the quest for the Living Blade, meeting the male leads, Prince Bashan and Master Diaz. Sadly, Whitecastle lacks the talent to write real male characters as she's a woman, but she tris valiantly with Prince Bashan. I was not impressed with Master Diaz, by the way – although his back story is like: he has sex outside of marriage and is punished for that for the rest of his life. I liked that part. It was realistic. But Nora? No. No punishment for her. So sad. She never snaps out of her disobedient ways to finally become the paladin I was expecting.
Also the book is really gory. When the violence happens it's very graphic and painfully drawn out. Why is that, Ms Whitecastle? Why can't you write aesthetic violence like every other good fantasy author? Give us battles with dragons, nekkid babes in chainmail bikinis, and magical talking blades, not actual hurt and emotional turmoil!
There's some sexual violence and rape, but alas! never as much as in Game of Thrones, and the fear of rape is never used as a motivation for the female characters – it's weird. It's like Whitecastle sees the opportunity to write the strong female lead we can all recognize, but then actively chooses not to.
I honestly don't see any appeal to this book, other than the cover which is really nice.
And OMG there's a sequel now?!?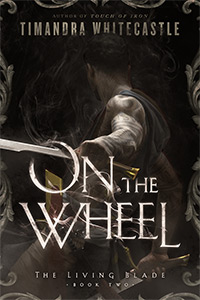 Touch of Iron on Amazon.com
Follow Timandra's ranting and raving on