And the madness continues!
Today we are back with the latest  in the AUTHORS REVIEWING THEIR OWN BOOKS SERIES! The ever dangerous Ben Galley joins us to share his thoughts on his novel The Heart of Stone.
Review of The Heart of Stone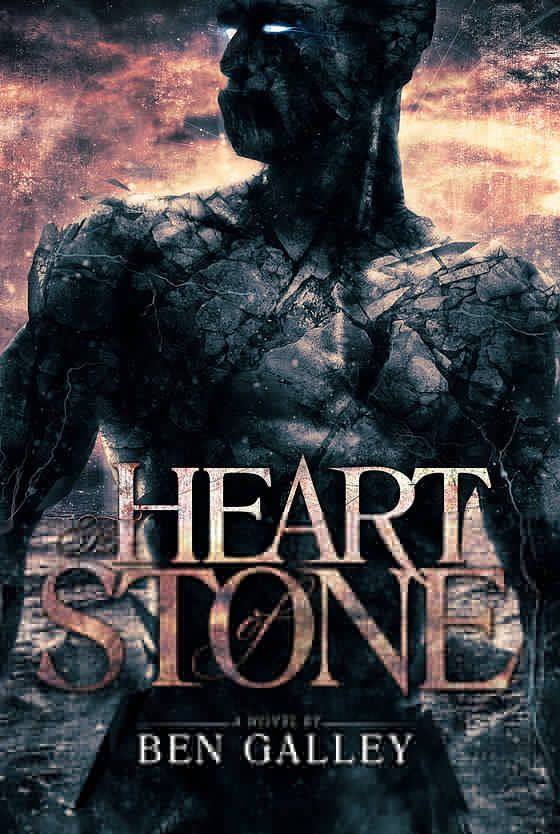 Firstly, allow me to say that I did not like golems before reading The Heart of Stone. After finishing this "book", I can now safely say I hate them.
I suppose I should do the decent thing and give you an overview of plot before I get into the bedrock of my review.
After a few cryptic preludes, we are introduced to some sort of stone beast as he steps off a boat into a war-torn country called Hartlund, which is painted to be as bleak as a medieval industrial estate in winter. The blurb hints at the beast being a kind of war machine, and after some brief and even bleaker world-building, we see what he's capable of as he's thrown straight into glorious battle against an enemy called the Last Fading. The story unfolds from there, the golem struggling to adjust to this new war, despite living through a hundred of them already. He's been given the task of winning the civil war for the humans, and yet all he wants to do is be left alone.
What "author" Ben Galley has tried to create here, in an attempt to be boulder than his last series, is an emotional story of discovery and humanity, told through the glowing eyes of a cynical yet enrapturing, distinctly non-human character.
Unfortunately, what Galley has written instead is a 400-page treatise on how much a golem can moan about its lot in life. When Task, the golem, is not grumbling his way through battle, or complaining about his living conditions, or the noise level of a war-camp, he's questioning his betters – us humans. The cheek of it. Instead of being poignant and revealing of human nature, it's like the plaintiff's script from a 17th century Judge Judy episode.
Let's look at the characters. Task is already at rock bottom when he arrives in Hartlund. He's a statue of cynicism, and not very fond of us lovely humans. He's almost too good to be true. He's immortal (ugh), and practically indestructible unless you pull out his witty tongue (ugh again). Who knew stone could be so verbose? Above all, he's just rude. He's been bought fair and square by the Truehards – the royal side of the civil war – and he's been made to fight wars all his life, so what's his problem? What has he got to complain about? This is the issue with magical creatures, IMO, they are too full of themselves. I'd rather take a dragon that knows its place any day of the week.
He's sullen, he's ungrateful (even though they give him a pen to sleep in… a whole pen to himself!) and he even complains when he has to crush a skull or two. He's a real sourpuss, and most of the time I wanted to slap him across his granite face, and say, "Cheer up! It's only been four hundred years of brutal servitude!". He's a truly igneous sod, taking everything for granite.
There's a lode of far more interesting characters in the book, and each have their own sections in the story between the golem's complaining. These are some classic fantasy characters right here. Completely original. There's a stable girl. A mercenary knight. A crotchety old lord. A wonderful gem of a general. A scheming politician. They're all trying to get along with the dignified business of battle, and this golem keeps ruining their days by refusing to get on being the war-slave he is, thinking he deserves "better".
The world is described in rich "detail" through Task's eyes, which I thought was boring. I found myself substituting my own, frankly better, world in place of his laboured descriptions. We see a glimpse of some far flung places, but most of the book is set in the rainy, wintry monochrome of Hartlund. The way that Task describes it, you would have thought a civil war had been raging here. I imagined a glowing country, rich, friendly and bucolic, but through the golem's eyes we see endless rolling hills, tumbledown villages, wastelands, skeletal trees and fields of bones. It really eroded my enjoyment. You might enjoy that sort of thing, but if you want dose of depressing landscape, I'd recommend watching a drone fly around Chernobyl instead.
Now, some people might like this raw and grim kind of POV, where you "feel" like you're fighting alongside Task through every blood-drenched fracas, or taking each tuff step across his bleak Hartlund with him, but I for one found it far too… realish. Where are the fairies, the unicorns? The wizards and simple struggles of good and evil? This is supposed to be fantasy, damn it, not Fifty Shades. That also reminds me of another gripe: there are no sex scenes in this book. None whatsoever. (Minus another star for that. If I had one hope halfway through this book of a saving moment, it would have been exploring non-human coitus.)
So, in summary, if you like the sound of a whining, nine-foot golem searching for retribution and justice, whinging his way through a perfectly good war, making profound yet unfounded philosophical comments on human nature, and stubbornly flinching away from his duties like a child, then The Heart of Stone is the right book for you. I hear it's out for pre-order, or whatever. Enjoy.
The Heart of Stone is available on Amazon
To Find More Ben Galley…
http://www.bengalley.com/heart-of-stone
https://www.facebook.com/BenGalleyAuthor/