2017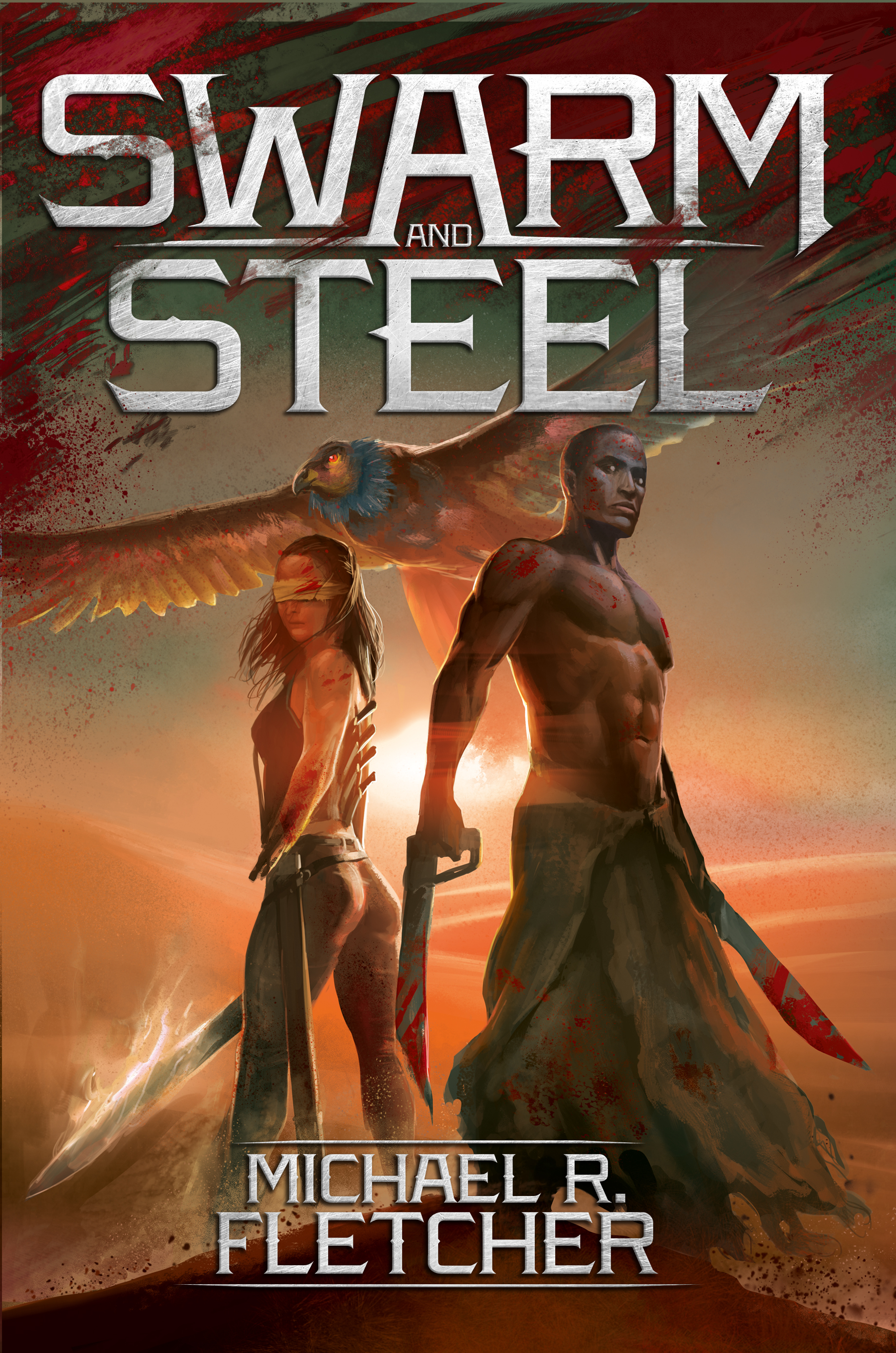 2017 was a weird year for me. A lot happened early on with the release of Swarm and Steel, and Ghosts of Tomorrow, and then I spent the rest of the year writing and editing. It feels like I haven't published anything in forever, when, in reality, that ain't the case. But then, as you know, perception is everything.
WRITING
I wrote three novels in 2017. Two are first novels for new series, and the last is a standalone that could be turned into a series.
City of Sacrifice: Like Blood in Sand:  The world is dead and the last city of man is falling apart as the few surviving gods war over the remnants of humanity. A weird blend of Central American and African influences with a dash of Carlos Castaneda. This one is currently with my agent and I await her feedback with the usual trepidation of someone accustomed to being eviscerated on a regular basis.
The Obsidian Path: Black Stone Heart: A young man is drawn south pursuing the shards of his shattered stone heart. With each piece recovered he remembers a little more of his dark past. This one is based on a decade-long Stormbringer (by Chaosium) campaign I ran back in the 90s. I haven't sent it in to my agent yet as I'm awaiting feedback on CoS.
The Millennial Manifesto: Four recent university graduates decide to make the world a better place by taking on corporate America using terror tactics. This is still in dire need of editing.
I also wrote ~30,000 words of a noir SF novel called Bleed I plan on someday returning to, the first ~30,000 words of The Obsidian Path: She Dreams in Blood, which will likely end up in a dumpster fire and get totally rewritten, and the first ~30,000 words of the last Manifest Delusions novel, A War to End All, which I shredded because they stunk. See a trend there? That's called burning out and then trying to force it and failing abysmally. I finally gave up and gave myself permission to goof off and write nothing until the urge to write returned. That urge has been creeping back over the last two months and I should be ready to once again take pen in hand and spill some blood in the new year. More on that later…
READING
This was not a good year for reading. When I bury myself in writing and editing, my reading suffers. According to GoodReads I finished seven novels this year. I know I started a lot more than that, but those remain unfinished. My suspicion is that most of the ones I dropped are in fact good books, but my own state of mind hindered my ability to enjoy them. Hopefully I can return to them some day. And now that I think about it, I'm pretty sure I read a couple that somehow didn't make it on to GoodReads. Damn this brain!
Books I finished…
The Court of Broken Knives: First, a disclaimer: I know the author. That said, if I didn't like the book I would quietly say nothing rather than lie about it in a review. It's amazing how quietly I can say nothing.
A second disclaimer: I am absolutely rubbish at writing reviews.
I drop books fast. I don't have much reading time and I'm not going to waste it reading something that isn't awesome. This means my GoodReads profile kinda looks like I gush over everything I read, but that's because there's zero chance of me finishing a three star book and even a four star book has a pretty good chance of getting dropped unless it hooks me early. I never review anything I don't finish.
Anyway, onwards and sideways!
Junkies and princes and religion and backstabbing and betrayal and oh-so-much-blood and violence and several times I stopped reading and said, "Holy fuck!"
Yeah, it was good.
But the writing blew me away. It infected me. I actually had to set aside my own work in progress because Anna's voice kept sneaking in there. Suddenly I was trying to write an Anna Smith Spark book. At first I wasn't sure why. Her prose is sometimes abrupt, sometimes long and languid. The story jumps between past and present tense, something I've experimented with and failed horribly at. The majority of the characters are despicable, even if they hide it well.
And then it hit me: It's music. Hear the words in your head, pay attention to the meter, the beats, the way the words flow into each other, the sounds and syllables. Anna paints in words, sings in prose. She's an artist, not just a writer. I understand how this might not work for some folks. If you want simple workmanlike prose that won't challenge you, this might not be the book for you. If you want to be reminded how effective, beautiful, and brutal language can be, you definitely want to read this.
This is a fantastic book and I loved it! Can't wait for the next one!
Blindsight: I first read this back when it came out (~2006) and loved it. I'm happy I reread it before going on to the sequel, Echopraxia. There's so much in here I'd forgotten, such a richness of ideas. Blindsight treads dangerously close to some of my own obsessions/fascinations: personality, different mental states, fragmented people. I think this is the only other SF novel where I've seen Cotardism mentioned. It also sent me off researching some new neurological disorders I hadn't seen before – fodder for future Manifest Delusions novels.
Gritty and dark as hell, this is an absolute must read.
The Grey Bastards: This book came out of nowhere and kicked my ass. I had no idea I needed more half-orcs in my life.
Highly recommended!
Blackwing: Holy crap! A late addition to my very short BEST OF 2017 list.
The Wheel of Osheim: And that is how you end a trilogy. Mark Lawrence rang every last emotion from me with this one.
Highly recommended!
Kings of the Wyld: Since I'm crap at reviews, I'm just gonna share a few thoughts on the book.
–He built a world where D&D makes sense!
–Eames is the voice of modern fantasy.
–If you haven't watched Spinal Tap, you're missing a layer of this book.
–Which one is the bass player?
–This is a damned good story.
A Separate Reality: Didn't review.
SkullSworn: As I was working on my own writing, it took me over a week to finish the first chapter. It hooked me hard. I set aside the book I was working on and finished the rest of Skullsworn in two days. Which, for someone who averages 12 – 15 books a year, is a record.
I have not been gut-punched by a book like this in a very long time. My one piece of advice: Don't read the last chapters somewhere where you don't want people seeing you get all emotional. Go home. Lock the door. Close the curtains. Banish the world.
I know it's only April, but this is an early contender for Best Book of 2017. I guarantee I'll be rereading this in years to come.
SkullSworn and The Court of Broken Knives tie as my favourite books of 2017.
2018
My Goals
I plan to publish at least two novels in 2018 as well as a collection of short stories. I'm thinking one novel will be self-published, the other traditionally published (if someone will have me, and now that I think about it, that measnthe book won't actually see the light of day until 2019 at the earliest…). Right now I don't know which will be which, but I kinda like this hybrid author thing.
I'm launching a yet unnamed Podcast with good friend, Kristopher Neidecker. We're going to chat with writers and podcasters and bloggers about damned near anything that interests us. This is way out of my comfort zone and scares the shit outa me. But I am looking forward to chatting with a bunch of great folks. We already have a half-dozen amazing guests confirmed. Details to follow.
I'M GONNA WRITE THE LAST MANIFEST DELUSIONS NOVEL ENDING THE STORY THAT STARTED WITH BEYOND REDEMPTION SO GET THE FUCK OFF MY BACK, PETROS!!!
All kidding aside, writing-wise, this book is my priority. I started it a couple of months ago, wrote about 30,000 words, and just last week tossed them in the shredder. I've figured out what was missing and am finally ready to do it right. The book will begin exactly where The Mirror's Truth leaves off and will not include Ewoks like I first thought.
After that, I'm going to write the sequel to either City of Sacrifice, or The Obsidian Path, depending on which I'm most excited about.
And now I've babbled on for too long, so…
HAPPY NEW YEAR!
Go do something awesome.